News
DC Launching 'Batman & Scooby-Doo Mysteries' Comic Book
JANUARY 14, 2021 9:00AM by Graeme McMillan
https://www.hollywoodreporter.com/heat-vision/dc-launching-batman-scooby-doo-mysteries-comic-book
-----
https://www.them.us/story/kid-quick-nonbinary-superhero-of-color-dc-comics?utm_source=twitter&utm_medium=social&utm_campaign=onsite-share&utm_brand=them&utm_social-type=earned
https://www.comicsbeat.com/interview-ivan-cohen-teen-justice-future-state-flash/
https://lnkd.in/g72mQmT

https://lnkd.in/gm-7SKF

https://lnkd.in/gQr9MqA
https://www.themarysue.com/dc-comics-debuts-non-binary-flash/
"Kid Quick is a welcome alternative to DC's typical cis, white heroes, and will easily be the highest-profile non-binary superhero in the DC universe. The Future State looks bright, and very very fast."
https://bamsmackpow.com/2020/11/03/the-flash-introduce-non-binary-speedster-next-crossover-dc-comics/
"It goes without saying that the decision to introduce a non-binary superhero is a welcome step forward for representation and it's even more striking that they are part of a family as iconic as the Flash Family.
ttps://io9.gizmodo.com/dcs-future-state-will-introduce-a-new-non-binary-flash-1845552514
DC's Future State Will Introduce a New, Non-Binary Flash to the Justice League
https://www.cbr.com/dc-comics-non-binary-flash-future-state/
DC Comics Introduces a Non-Binary Flash in Future State
DC has revealed that The Flash of its DC Future State publishing initiative is Kid Quick, a genderfluid non-binary scarlet speedster from Earth-11.
https://comicbook.com/comics/news/the-flash-non-binary-character-dc-future-state-jess-chambers/

Exclusive: New Teen Justice Team Debuts In DC's Very Merry Multiverse
We spoke to Ivan Cohen about his upcoming eight-page story in DC's Very Merry Multiverse, where a new Teen Justice team will debut!
BY LIAM MCGUIRE3 HOURS AGO
DC Comics' newest Teen Justice team will debut in the upcoming DC's Very Merry Multiverse. The story will take place on Earth-11 and feature both new takes on familiar characters, as well as a few returning heroes from across the multiverse.
The 8-page story by Ivan Cohen (Wonder Woman: Agent of Peace) and Eleonora Carlini (Buffy Hellmouth) will focus on the Teen Justice team from Earth-11. The story will also serve as the debut of the brand-new Future State Flash, Jess Chambers. Chambers, who goes by the name Kid Quick and is genderfluid (non-binary), will become the Flash in the upcoming Future State: Justice League series. The story will also feature new characters, such as Robin and Aquagirl. The gender-swapped heroes of Earth-11 originally appeared in Grant Morrison's The Multiversity Guidebook. We spoke to Cohen about his upcoming story.
Can you give us an insight into the Teen Justice team? Who are these new heroes?
Teen Justice is a new super-team on Earth-11, the world where there's a Justice Guild instead of a Justice League and the heroes are gender-flipped versions of the heroes of the traditional DC Earth. And while a lot of E-11's history is a fairly straightforward reflection of the mainstream DCU, things are different enough that Teen Justice may in fact be the first kid-hero team in that world, so their mentors have no experience in how to deal with the dynamics of their sidekicks and proteges setting out as their own independent team. The membership of Teen Justice includes Aquagirl (Jacqui Hyde), Supergirl (Laurel Kent), and Robin (Talia Kane), who all only seem familiar. Aquagirl is this world's Aqualad, Supergirl and Robin are the children of Superwoman and Batwoman, respectively. More-offbeat characters I doubt anyone would expect are Donald Troy – Titans fans know better than to ask "Who is..." – Zatara's protege, Klarienne the Witch Girl, inspired by a Kirby creation given bigger life by Peter David and Grant Morrison, so you know we're in seriously weird territory; and the super-fast Jess Chambers, aka Kid Quick, whose aunt is Jesse Quick.
Are any of these characters going to be appearing as a larger part of the Future State Event?
I think that's why we're here. The Flash character fans have seen teased as part of Future State is, in fact, a grown-up Kid Quick, who's an analog for the idea of Kid Flash in a world where Jesse Quick is the definitive speedster. A Titans-type team always has a super-fast member, but there are so many Flash characters in the DC Multiverse, we knew anyone we added to that category had to be really different from the rest: not just Wally West with curves. I suggested that Kid Quick could be Earth-11's first genderfluid character, and once editors saw Eleonora Carlini's terrific take on the character design, there was suddenly a lot of interest in them for stories beyond the Merry Multiverse Special in December. And while Kid Quick's the only Teen Justice character making their way into Future State that I know of, the reaction Kid Quick and the whole team's debut story by me and Eleonora has gotten from DC Editorial (led by our editor, Michael McCalister, who put me and Eleonora together and made sure other people saw the story and the designs) gives me hope that the whole team could play a larger part in the DC Multiverse's present and future.
What can readers expect from this DC's Very Merry Multiverse story?
A New Year's celebration. Alien Starfish, which are a beloved tradition for super-team debuts. Mind-controlled heroes fighting their sidekicks. And a super-team origin story that has no need for any pre-existing knowledge of the multiverse or appearances by the Justice Guild. And a few unexpected gender-flipped cameos for old-school DC diehards. They'll also get the debut of Earth-11's Zatara, whose costume is... wow. And I can't say enough about Eleonora's artwork. I asked a lot of her in a very short story. A ton of characters, including New Years' revelers in desperate danger, action, and room for jokes, and she delivered. She brought an energy to the visuals that made the story move. And that's no small feat with maybe ten different characters having speaking parts in an eight-page action story. A real sign of how great her designs are is that they were good enough to impress other editors at DC, all during a time where there are no shared physical offices. I mean, it's one thing to call out to an editorial muckety-muck passing by in the hall to show off some art, it's something else entirely to take time out of a busy editorial schedule to send the workaround digitally, interrupting similarly busy other editors putting out fires on their titles. That's not a tribute to my writing – which, don't get me wrong, is amazing – as much as it is a tribute to the incredible design and storytelling Eleonora brought to the party.
Check out the rest of the designs for the Earth-11 heroes by Carlini...
https://screenrant.com/teen-justice-future-state-earth-11-dc/
---
Ivan Cohen writes DC Universe issue Wonder Woman: Agent of Peace #13

https://www.gamesradar.com/wonder-woman-agent-of-peace-dc-digital-first-series-returns-with-all-new-content/
Wonder Woman: Agent of Peace DC Digital First series returns with all new content
By George Marston 4 days ago
Wonder Woman: Agent of Peace returns to DC Digital First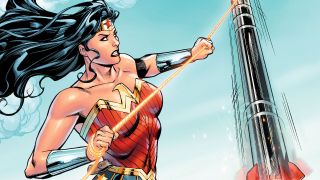 (Image credit: DC)
DC is getting back into the swing of its Digital First comic book releases with a new slate of issues of Wonder Woman: Agent of Peace featuring entirely new content – and the publisher also announced that their Digital First titles will now feature new stories as opposed to reprints of material that first appeared in DC's oversized Giant anthology publications, which were the source of a large amount of the content published in previous Digital First releases.
The four new issues, which will run weekly from October 21 through November 11, introduce a variety of creators to the Wonder Woman: Agent of Peace stable, with contributions from Ivan Cohen, Pop Mhan, Amanda Deibert, Aaron Lopresti, Danny Lore, Maria Laura Sanapo, Andrew Wheeler, and Paul Pelletier on the docket.
...
(Image credit: DC)
'Power Drive'
Written by Ivan Cohen
Art by Pop Mhan
When a super-in-sync gang of criminals bring their high-speed crime spree to Washington, D.C., it's up to Wonder Woman and guest-star Wonder Girl to bring the bad guys down! But how will they catch the criminals, who vanish without a trace after every heist?
Release date: Wednesday, October 21
---

HBO Max comic series written by Ivan Cohen
https://www.hollywoodreporter.com/heat-vision/dc-launches-digital-comic-tied-hbo-max-1298412
JUNE 15, 2020 10:23AM by Graeme McMillan
DC Launches Digital Comic Tied to HBO Max
Jim Lee/DC
In one of the more unexpected corporate synergy moves in recent memory, DC has announced To the Max, a new digital comic book series created in collaboration with HBO Max, in which three regular people achieve their full potential with the assistance of a superpowered dog. It's all to help promote the launch of the new WarnerMedia streaming service.
All three issues — To the Max: Hector, To the Max: Brian, and To the Max: Olivia — will be written by Ivan Cohen, with art by Scot Eaton, Hendry Prasetya and Laura Braga, respectively. Each issue spotlights a regular human who becomes transformed into a superhero in extraordinary circumstances, after meeting Max the Dog. The issues will feature "Easter eggs and fun nods" to content available on the HBO Max service, according to the publisher.
Covers for the issues come from Jim Lee, Jorge Jimenez and Amanda Conner.
"We are thrilled to partner with the amazing team at DC to present this creative personification of HBO Max as a team of powerful comic book superheroes," Robert Greenblatt, chairman of Warner Media Entertainment and direct-to-consumer, said in a statement. "These fun, original stories depict a diverse range of ordinary individuals who are symbolic of the depth and breadth of programming that is available on the platform, driving home the message that HBO Max has something for everyone."
DC publisher and chief creative officer Jim Lee added, "We are excited to share these new and original stories of Hector, Brian, Olivia and Max with the DC fans, and all fans of great entertainment content. These are superhero stories at their core, but they are also a pop culture scavenger hunt for the most media savvy!"
All three issues are available for free now across DC's digital portfolio, including DC Universe, DCComics.com, ComiXology, Kindle, Hoopla, Overdrive, Madefire and more.
------
Ivan Cohen one of writers featured in national custom-comics campaign
http://www.blog.generalmills.com/2017/02/cereal-boxes-in-a-league-of-their-own/
FEB 27, 2017 • BY ASHLEY HALLADAY
Cereal boxes in a league of their own
The Justice League has come to the front, back and inside of several of our cereals.
It's Big G's latest partnership with Warner Bros. Consumer Products, on behalf of DC Entertainment, available on boxes of Honey Nut Cheerios, Multi Grain Cheerios, Trix, Lucky Charms, Cocoa Puffs and Cinnamon Toast Crunch (exclusively in Family Size).
"In brainstorming with Warner Bros. Consumer Products and DC, we were energized by the similarities and popularity of the Justice League characters and of our own cereal characters," says Lisa Kessel, a marketing communications manager at General Mills. "DC shared that many of their artists were also huge cereal fans and we were excited to bring that love of cereal and the love of comics together in one holistic event."
Six cereal boxes are getting a complete DC Super Hero makeover. The front of five boxes feature transformations of our General Mills' equity characters, and one box features Wonder Woman.
BuzzBee takes on the look of Batman, the Trix Rabbit of Superman, Lucky of Green Lantern, Sonny of The Flash, and the Crazy Squares team of Aquaman, Cyborg and Green Lantern.
These specially-marked boxes also include one of four exclusive DC comic books – titled "Power Play," "Dark Reflections," "Truth Hurts," and "Alien Justice."
And the action doesn't stop there. The back of the boxes, when lined up, make a powerful panoramic, designed by well-known comic book artist Ivan Reis.
After 26 years in the industry, Reis has created classic-modern artwork for more than 200 comic books. He told us he enjoyed the challenge of creating the back-of-the-box composite art.
"The art is about three feet wide when put together. It's huge, and it doesn't even fit my drawing board," he says. "While working on them, I would split it and assemble it back together all the time to see how the entire image looked."
So, what does Reis think about having his art featured on our cereal boxes?
"The knowledge that countless people and children will see my art throughout every cereal aisle in the U.S. is something I never imagined to happen," he says. "Every morning, one child, or someone's inner child, will spend a few minutes of their morning breakfast entertained, creating their own stories while savoring their cereal."
Reis says the panoramic is a piece of art made of pure joy.
"The Super Heroes are in a moment of celebration. Everything in it evokes an awesome vibe, just as you're supposed to do to start a good morning," he says.
For Reis, the best part of the collaboration was having the opportunity to create a completely new form of art using the Justice League.
"It's colorful, cheery, with no threats or problems. It's the kind of art that touched me as a child whenever I saw something similar in the supermarket or a department store, and I hope this one can have the same effect on people of all ages," he says. "I hope they will see it and think: 'I've gotta have all those boxes!'"
Hope Zeckmeister, marketing communications planner for Big G partnerships, says cereal boxes and premiums are a big part of breakfast.
"These surprising package designs and comics are intended to create not only immediate enjoyment, but also memories at the breakfast table," she says. "The process to bring these boxes to life was extremely collaborative between General Mills, Warner Bros. Consumer Products and DC because we wanted to ensure we got the artwork right and to pay tribute to both our characters and the members of the Justice League."
The limited-edition boxes are available now through the end of April.
http://www.comicbookresources.com/?page=article&id=51183

Louise Simonson Helms IDW/Cartoon Network "Super Secret Crisis War" Crossover
by Karl Keily
Posted: Fri, February 28th, 2014 at 11:28AM PST

On Friday at the annual ComicsPRO meeting in Atlanta, IDW Publishing announced plans for their first crossover event featuring their licensed Cartoon Network properties including "The Powerpuff Girls," "Samurai Jack," "Dexter's Laboratory," "Ed, Edd and Eddy," and more, building on the publisher's series based on "The Powerpuff Girls," "Samurai Jack" and "Ben 10."
"Super Secret Crisis War," a 6-issue miniseries, kicks off in June by legendary "X-Factor" and "New Mutants" writer Louise Simonson with up and coming cartoonist Derek Charm illustrating the epic event. Charm will also draw the main covers for all six issues, while "Powerpuff Girls" artist Troy Little provides variant covers for each issue.
In addition to the creative team breakdown, IDW provided CBR News with the solicitation copy for "Cartoon Network: Super Secret Crisis War" #1:
"The devious demon Aku has called together a League of Extraordinary Villains - composed of malevolent miscreants from different cartoon universes. When their evil robots show up in the world's of 'The Powerpuff Girls,' 'Ben 10,' 'Samurai Jack,' 'Dexter's Laboratory' and (even) 'Ed, Edd and Eddy,' it's up to all these fearless heroes to band together and put an end to the League's nefarious plot of inter-dimensional conquest!"
Additionally, five one-shot tie-in issues will accompany "Super Secret Crisis War" beginning in July. Written by some of today's best all-ages authors, these one-shots include "Foster's Home for Imaginary Friends" by Ivan Cohen, "Grim Adventures of Bill and Mandy" by Kate Leth, "Johnny Bravo" by Erik Burnham, "Codename: Kids Next Door" by Scott Peterson, and "Cow & Chicken" by Jim Zub. Each one-shot also features a two-page back-up story by Louise Simonson that explores the origins of the League of Extraordinary Villains, and variant covers by Ethen Beavers.
"When IDW first acquired the rights to the various Cartoon Network properties, we not only discussed comic series for individual characters, but also the possibility of crossing over the properties and having two or more iconic cartoons in the same book," explained editor Carlos Guzman. "With so many interesting classic characters to choose from, we couldn't pass up the chance of teaming up Dexter with The Powerpuff Girls, or Johnny Bravo with Samurai Jack!
"Cartoon Network loved the idea, and we set out to find the right creators for the job. By pure serendipity, the brilliant Louise Simonson had already been talking to IDW about her interest in new projects, so we floated the idea her way. She enthusiastically dove in, picked out her team of heroes and villains from among her favorite characters, and the rest is history! Sarah Gaydos and I set out to find the perfect artist for an event this momentous, and we found him right under our noses: Derek Charm was working on a several covers and two issues of 'Powerpuff Girls,' and his amazing storytelling and show-stopping art impressed us, and put him in the running. The biggest challenge for any artist on this event was going to be making the different art styles (from the clean lines of 'Ben 10,' to the squigglier style of 'Ed, Edd and Eddy' fit together. Once Derek finished his first cover (featured on the exclusive Comics PRO cover for 'Samurai Jack' #5), there was no doubt in our mind that we had found the right man for the job!"
Look for "Cartoon Network: Super Secret Crisis War" #1 this June from IDW Publishing.
---
http://www.popmatters.com/review/176263-cohen-at-bat-beware-the-batman-1/
PopMatters: The Magazine of Global Culture
Cohen at Bat: "Beware the Batman #1"
[6 November 2013]
By shathley Q
PopMatters Comics Editor
There's a categorical difference between "all ages" books, and "children's" books. Categorical in both senses of the word; both "marked" and "being of different kinds." Books of the former category are remarkably rare, and perhaps it's easy to be cynical about their very existence. Most "all ages" books are thinly-veiled "children's" books, presented as "all ages" simply in that they're structured to be a shared experience between adult and child—with the adult doing the reading, and the child doing the imagining. Jaded by the structural deficit apparent in most "all ages" offerings, it becomes hard to credibly hope for much when an "all ages" label is place on the cover of a comicbook (a medium still dealing with the fallout of its '40s industrial-era branding as primarily being kids' entertainment). But writer Ivan Cohen's Beware the Batman #1 delivers on that promise of "all ages," and then some. And it does this by taking a radically different approach to the one taken by Batman writer Scott Snyder in the current "Zero Year" storyarc.
In the pages of "Law and (Dis)Order," the debut issue of Beware the Batman, Cohen unfolds a world laced with preexistent real-world damage from 2008, 2011 and after. There's more than enough animosity towards vast institutions like the economy (and its inherent structural failure which resulted in the 2008 financial collapse), but also a sense of social movements being able to cause wide-scale change. "Fightback" is an Occupy Movement analog that appears in Beware.
And on that point, it might be worth taking just a moment to admire the enormity of the risk and the bravery involved in placing that idea front and center in a "children's" book. Beware the Batman is the first of generations of "children's" books that acknowledges the psychosocial context of damage and wide-scale societal change that swept the globe between 2008 and 2012. So it might be entirely possible that future issues of the comicbook would deal with issues like social democracy, or hacktivism, or even governmental gridlock. It's in this way that Cohen is really able to fire up a sense of promise for the book. There's a kind of deep hopefulness that comes with reading "Law and (Dis)Order," hopefulness for the medium as a whole, but also for the book and for Cohen in particular.
But Beware the Batman isn't only an "all ages" book because it allows older readers to cheerlead for younger readers as they learn about the world's social complexity. (Although that is powerful in itself, imagine old episodes of The Lone Ranger being epimythic of the Iran-Contra scandal). With Beware, Cohen also takes readers down the murky, difficult rabbit hole of perpetual fiction, continuity and individuated artistic definition of a now seemingly timeless character.
The finale of the issue sees Batman confront Anarky's plans for backsliding Gotham's citizenry into a kind of barbarism. In short, and similar to Heath Ledger's arresting Joker in The Dark Knight, Anarky hopes that disabling all locks in Gotham will resulting in an unstoppable wave of looting and rioting. Just the mechanics of the social complexity depicted in this book is astounding. Younger readers are being offered an understanding of how Anarky (a supervillain attempting to hijack a social movement) is conceptually different to Fightback, the social movement itself. Moreover, the Batman is only able to engineer a defeat of Anarky's plan by taking mass control of the media in the same way Anarky does.
But the story isn't left there. On the concluding page calls into question the morality of Batman's action of wresting control of and domination of public media. Was Gotham relatively calm because Gothamites are essentially good, or because Batman frightened them into being good? A few pages earlier, Batman's warning was chilling; "People of Gotham. This is Batman. A madman named Anarky has unlocked every door in Gotham. Anarky thinks that all this city needs are unlocked doors to turn Gotham into the Jungle. But we know better. I'm counting on all of you to stay home and stay calm until the crisis passes. And to those of you who won't, who think this is the opportunity you've been waiting for, just remember… I'll be watching." Just framing the non-looting as being a question of either inherent goodness or external motivation is a huge check-mark in the "all ages" column for Beware the Batman. It seems to tread similar academic ground to recent research conducted by behavioral economist Dan Ariely.
But with the tone of the story in "Law and (Dis)Order," Beware the Batman attempts to weave itself into the ongoing narrative of the Batman similar to Snyder's project in the pages of Batman. Snyder's writing style, which centers around creating epic visual moments for artists, offers a sort of meta-meditation on the visually evocative moments from Batman's past as they segue into visually iconic moments in the present story. In this way, Snyder and artist Greg Capullo offer the character's past as a kind of Tarot Deck—that the moments themselves will appear time and again, but it's up to you personally to decide what those iconic moments mean at each point you encounter them. Cohen focuses on a more classic approach. He attempts a complete retrofitting of the Batman mythos, specifically tailoring it to the current era. It's true that in time the sociocultural relevance of Cohen's Batman will fade, but it's also true that this Batman will always and correctly be identified with the early 21st century.
It would be the worst kind of backhanded compliment to suggest a personal sense of eagerness at the prospect of Cohen getting a crack at for a real adult Batman in the pages of Detective say, or maybe Batman & Robin or even Batman. But that would be to disavow the great work done by Cohen on this title. Beware the Batman comes with the highest praise.
----
http://www.comicbookresources.com/?page=article&id=42192
IVAN COHEN INTRODUCES HANUKKAH TO "GREEN LANTERN: THE ANIMATED SERIES"
Wed, November 14th, 2012 at 9:01am PST
CBR News: Ivan, you worked for years at DC in a number of capacities including in Editorial. For fans who may not recognize your name, what are some of the comics you had a hand in making that you were proud of and felt were indicative of your time on that job?
Ivan Cohen: I think Greg Rucka's "Wonder Woman" run was certainly the biggest thing I ever worked on at DC as a solo editor. That book meant a lot to me, and I feel like it was the kind of book I liked reading. There were other books I worked on that I liked. I worked with a lot of different people on "Secret Files" when I was editing there and gave some people their first sequential work at DC. I think Phil Noto's first sequential work was on that book. Giuseppe Camuncoli, who does a lot of superhero work now, came over, and I was his first DC editor after he'd done some stuff at WildStorm. There was a book called "Bloodhound" which I worked on with Dan Jolley and Leonard Kirk. I liked that a lot, though it kind of disappeared without a trace.
And I also worked with Dan DiDio and the rest of the Editorial team and was sort of in charge of making sure the trains ran on time for everything that ran into "Infinite Crisis." The "Wonder Woman" piece of that had Wonder Woman killing Max Lord of course, but overall it was an epic management of creative talent and publishing schedules. I remain very proud of that.
You worked with a lot of different characters on various projects there and while working with the Warners film division. Was there anything about working across the entire DCU that's impacted you as a writer now that you're doing books like "Green Lantern: The Animated Series"?
Well, there are limits you work under. While I was working on the film and TV stuff and even when Geoff Johns started taking over that part of the media world, there were times where the focus was on trying to make the characters consistent even when the universe wasn't always consistent. So the "Wonder Woman" DVD didn't have Batman showing up in it, but you wanted it to feel like that was part of the familiar DC Universe and that all the characters were consistent with the qualities that made them interesting in the comics.
I'd worked in the early stages of the development of "Green Lantern: The Animated Series," and so when I got the opportunity to write the comic, trying to make it consistent with the show was very important to me. There were some limitations on that because there are characters and ideas I wanted to use that the TV show hadn't introduced yet, and that's a fine line to walk. But having Hal be the Hal from the TV show -- who I think is pretty close to the comic version if a little more jokey -- was key. I didn't see any way around that. And the take on Kilowog from the TV show is one I really liked. I try to keep them together with that kind of sparring relationship.
Your first issue of the comic series was #4 which used classic GL villain The Tattooed Man in a flashback to earth. Was there any guidance from the show on how to represent Hal's time on earth or how to portray that character that the show would likely never tackle in space?
There wasn't that much direction from the show, but since my first issue was a fill-in, I had pitched Editor Kristy Quinn on a bunch of ideas, and she liked that one since the TV show hadn't done an episode set on earth yet except for part of the pilot. And they weren't planning to do an earth episode for a while. Meanwhile, Art [Baltazar] and Franco who were writing the comic at the time had no plans to do one, and so the Tattooed Man story gave us a chance to do something different on the book.
As we're moving forward, I was talking to my friend Mike Siglain who used to work at DC and is now an editor at Disney, and I realized that doing this "Green Lantern" comic is like doing "Star Trek." There's a new alien race every issue with new problems all seen through the lens of these familiar characters. But instead of being Kirk, Spock and McCoy, it's Hal, Kilowog, ship computer Aya and the Red Lantern Razer. We get to play with the format a little. The TV show has a few limitations in that it's a CG show with an elaborate process for designing new characters, but in the comic, we can create whole races that only appear in one panel if we want. Although my artist Luciano Vecchio wouldn't be too happy about that. [Laughs]
So the theme of this week's issue is "a Green Lantern Hanukkah comic." How in the world did that come about?
[Laughs] Well, we knew my second issue would be shipping in November, and so I pitched Kristy a bunch of story ideas – none of them Hanukkah related. Then she called me and said, "Looking at the schedule and what Art and Franco are planning, we don't have a holiday issue set for this year. You can do what you've already pitched, or if you want, you can do a holiday story." It was totally up to me, and I don't know if I'd say I always love a challenge, but this one was interesting to me. I pitched three Green Lantern Christmas stories and then one Hanukkah story. And I guess I always imagined that someone named Kristy Quinn would go for the Christmas stories, so I got really excited for those. Then she picked the Hanukkah one, and I thought, "Geez. This is going to be the hardest one to write!" [Laughs] I was all set to do Hal as Rudolph using his ring to guide people through the darkest sections of space, but the Hanukkah story ended up being a lot of fun if super challenging.
Well, it's not the traditional kind of holiday story where the hero comes across a Jewish family and learns the "true meaning of Hanukkah" or something like that. This is still a space adventure story. How did the holiday inform what is in many ways still an action comic?
That was a huge challenge to do because Hal is not Jewish, so we were never going to have him marooned on an alien world saying to his friends, "You know on earth, they're celebrating Hanukkah right now. Let me tell you the magical story of the flame that burned for eight days." That would be phony and horrible. [Laughs] Even as a Jewish comics reader, I would have known that was nonsense and that I was being condescended to.
So I tried to figure out things you can do with that story that fit this comic. And there are precedence for that kind of thing. I remembered that old "Legion of Super-Heroes" story where Superboy tries to find the star showing over Bethlehem. That kind of thing. I wanted to do something a little more abstracted, and the thing about the Hanukkah story is that it's already a story about a battle. It's a story that has soldiers kicking ass. But it's also a story about a miracle where this thing that's supposed to last for one day lasts for eight days. That was the lightbulb moment for me. "Traditionally, Hal's ring lasts for one day on a charge from the Green Lantern. What if I could do a story where he has to make his power last for eight days?"
From there, I just added in other traditional Hanukkah elements wherever I could so it would really be a Hanukkah story. He's on a planet where the names are connected to Judah Maccabee, the hero of the traditional story, so one of the characters is named Mk'Abee in the classic kind of comic book alien spelling. And her little brother is named J'Dah. Their tribal colors are white and blue, which are the traditional Jewish/Israili colors, and they're called The Hammer Tribe, which is what the Judah name's translation literally means. And also, you get to watch Kilowog eat latkes, which was for me the highlight.
There is a tradition in superhero comics and in the DCU of holiday-themed stories. Geoff Johns' old "JSA" Thanksgiving dinners come to mind. Did you have any favorites from the past that informed how you approached this one?
I read those comics when I was a kid. I was a voracious comics reader, and I believe -- I'm kind of embarrassed to admit this -- that there is a published letter by me in an issue of "DC Comics Presents" talking about how much I loved the issue that featured Superman and Santa Claus. In retrospect, I don't think I loved the issue so much as I was just home with pneumonia and wrote into 20 different comics to see if I could get a letter printed. That was one of three that got in. [Laughs]
I do remember a story about the Atom from the '70s that seemed to indicate Ray Palmer was Jewish, and it was never mentioned again. Years later, I know it was a big deal that when the new Batwoman was introduced that she was a lesbian...but it was also a big deal that she was Jewish! That was crazy. I mean, nobody noticed except me and other Jewish comics readers, but it was exciting because religion doesn't come up very much for these characters.
Still, as for religious comic book stories, the Christmas ones are a pretty big deal. And the Geoff Thanksgiving issues are fantastic. Joe Kubert also did lots of great Old Testament Bible comics that were straight adaptations and fantastic. So there are no specific stories I'm referencing here, but things like that Legion story I remember which Paul Levitz wrote. It was an honest attempt to do something tricky which is acknowledge Christian theology in the DC Universe. It can be tough some times as a Jewish comics fan to read stories that seem to canonize the idea that Jesus is divinity. But on the other hand, when I was a kid reading comics it was when they introduced the Spear of Destiny as this powerful artifact that got involved in the Crisis stories. So that stuff can work in there. You've just got to find the right way.
A lot of the books coming out of the DC West Coast editorial office are formatted first for digital devices like the iPad where the printed page of the comic are two "screens" stacked on top of one another. Is that something you've been playing with to make these comics available via the DC Kids app?
I don't think we thought about that so much in my first issues as much as we have with the later ones, but yeah, you won't be seeing any two-page spreads or as many splash pages. That's a realistic consideration because the kids books are always made with an eye towards "How can we get this out in as many formats as possible?" They translate them into foreign languages and release on tablets with the hope that parents will download them for their kids to read on a reader like the iPad. I don't know if you've ever read any comics on a phone, but it's not an ideal way to read a comic. We try to make choices that help that, and Luciano has made some choices to help make the pages feel big even when they're formatted in a way that can work for a smaller screen.
Wrapping up, what's your next step for this series and for comics in general?
I become the regular writer on "Green Lantern: The Animated Series" with issue #10, and that's the first issue I've done with Dario Brizuela who is the regular artist on the series. I'm very proud of how that one came out. My next issue after that is #12 which introduces a new character to the Green Lantern universe that I'm shocked Geoff Johns hasn't done yet. I'm excited to add that new character to the mythos, which is a planet-sized Red Lantern. It's basically the Red Lantern equivalent of Mogo.
Apart from that, there's some other stuff that I have limited ability to talk about. I'm consulting on a PBS documentary about superheroes right now. I've also just written the introduction to the latest volume of "Wonder Woman Archives" which just came out last week. It's an essay about how much I hate Steve Trevor. [Laughter] I've also written an episode of a new DC animated series that should be debuting late next year or early the year after.
"Green Lantern: The Animated Series" #8 is in stores today from DC Comics.
******
GREEN LANTERN: EMERALD KNIGHT DTV -- OFFICIAL PRESS RELEASE FOR PROJECT ON WHICH
IVAN COHEN WAS EXECUTIVE IN CHARGE OF PRODUCTION FOR DC COMICS
The origins of the ultimate intergalactic police force are revealed across six interlocking tales of the legendary Green Lantern Corps in the all-new Green Lantern: Emerald Knights, the next entry in the popular, ongoing series of DC Universe Animated Original Movies. Building up to the release of the highly anticipated live action film, Green Lantern, in theatres June 17, Green Lantern: Emerald Knights arrives on Blu-Ray™, DVD, On Demand and for Download June 7, 2011 from Warner Premiere, DC Entertainment and Warner Bros. Animation.
The full-length animated Green Lantern: Emerald Knights will be distributed by Warner Home Video as a Blu-Ray™ Combo Pack and DVD. The film will also be available On Demand and for Download.
Green Lantern: Emerald Knights weaves six legendary stories of the Green Lantern Corps' rich mythology around preparations for an attack by an ancient enemy. As the battle approaches, Hal Jordan mentors new recruit Arisia in the history of the Green Lantern Corps, telling tales of Avra (the first Green Lantern) and several of Hal's comrades – including Abin Sur, Kilowog, Laira and Mogo. In the end, Arisia must rise to the occasion to help Hal, Sinestro and the entire Green Lantern Corps save the universe from the destructive forces of Krona.
Primetime television stars Nathan Fillion (Castle) and Elisabeth Moss (Mad Men) lead a diverse array of performers as the voices behind the Green Lantern Corps.
Fillion provides the voice of the animated film's central character, Hal Jordan, the human Green Lantern assigned to Sector 2814 (which includes Earth). Fillion has starred in several primetime television series including his current hit Castle as well as Desperate Housewives, Two Guys, a Girl and a Pizza Place and Buffy the Vampire Slayer. He has also developed a popular cult following as a pair of Joss Whedon's heroic captains: Capt. Mal Reynolds in the space-western series Firefly and follow-up film, Serenity; and Captain Hammer in Whedon's internet sensation Dr. Horrible's Sing-Along Blog. Fillion returns to the DC Universe after his successful turn as Steve Trevor in the animated film Wonder Woman, and has performed voice work on the animated series Justice League, Robot Chicken, The Venture Bros., and several Halo video games.
Moss gives voice to Arisia, a young recruit forced into her first mission on just her third day as a Green Lantern. Prior to starring as the ever-evolving Peggy Olson in AMC's ground-breaking series Mad Men, Moss was featured on The West Wing, Invasion and Picket Fences. Moss has been active in voiceovers for animation with previous roles in Steven Spielberg Presents Animaniacs, Freakazoid! and It's Spring Training, Charlie Brown!.
The voice cast for Green Lantern: Emerald Knights also features actor/spoken word artist Henry Rollins (Sons of Anarchy, The Henry Rollins Show) as Kilowog, Jason Isaacs (the Harry Potter films) as Sinestro, legendary professional wrestler "Rowdy" Roddy Piper (They Live) as Bolphunga, Arnold Vosloo (The Mummy) as Abin Sur, Kelly Hu (The Vampire Diaries) as Laira and Wade Williams (Prison Break) as Deegan. Radio Hall of Fame commentator/talk show host Michael Jackson voices the esteemed Guardian, Ganthet.
Bruce Timm is executive producer of Green Lantern: Emerald Knights. Directors are Lauren Montgomery, Jay Oliva and Christopher Berkeley. The six interlocking tales are penned by comic book luminaries Geoff Johns, Dave Gibbons, Peter J. Tomasi, Eddie Berganza, Alan Burnett, Todd Casey and Michael Green & Marc Guggenheim.
"Green Lantern: Emerald Knights is filled with wonderful backstory and exposition on the Green Lantern Corps going far beyond Hal Jordan, making this film a perfect complement to the live-action major motion picture, Green Lantern," said Hersin Magante, WHV Marketing Director, Family & Animation.
Green Lantern: Emerald Knights Blu-Ray™ Combo Pack has over 2 1/2 hours of exciting content, including:
* Feature film (est. 75 min)
* Sneak Peak at Batman: Year One, the next DC Universe Animated Original Movie
* Behind-the-Scenes look at All-Star Superman
* Featurette: "Only the Bravest: Tales of The Green Lantern Corps" – Bravery is the unique, identifying characteristic of each Green Lantern. Yet what does it mean to be brave? How has the world of Green Lantern and the Corps made bravery into something we can all relate to? This story reveals and defines the bond that holds together the Green Lanterns' affection for the ring, and the ring's unwavering loyalty in return.
* Featurette: "Why Green Lantern Matters: The Talent of Geoff Johns" – Geoff Johns is a force to be reckoned with. He's not only the Chief Creative Officer of DC Entertainment, he's a New York Times bestselling writer with a fresh and vibrant storytelling perspective. Johns discusses his contemporary take on the Green Lantern character and why that character resonates in our culture.
* Pod: From Comic Book to Screen: Abin Sur – Take a peek into Geoff John's "Green Lantern Secret Origin" book which, for the first time, showed fans what really happened to Abin Sur before he crash-landed on Earth and passed his ring to Hal Jordan.
* Pod: Beautiful … But Deadly – From Comic Book to Screen: Laira Omoto – Green Lantern: Emerald Knights again creatively weaved a riveting comic book short story into the intricate plot of the film while introducing the honorable Green Lantern, Laira Omoto. Known as one of the Green Lantern Corps' fiercest warriors, this mini-featurette takes a deeper look into the history and origin of this humanoid marital artist and her family feud with the Golden Dragon!
* Audio Commentary: Dan DiDio and Geoff Johns
* "Green Lantern" Digital Comic Book
* Two bonus episodes from animated television series handpicked by Bruce Timm.
* Standard and high definition versions of the feature film
* Digital copy on disc of the feature film
About Warner Premiere:
Warner Premiere is a Warner Bros. Entertainment production company focused on the development, production and marketing of feature-length-DVD and short-form digital content for this growing space. Warner Premiere is committed to being at the creative forefront in the evolution of quality product in the direct-to-consumer business, creating material that exemplifies the commitment to story, production and brand equity for which Warner Bros. is known.
About Warner Home Video:
With operations in 90 international territories, Warner Home Video, a Warner Bros. Entertainment Company, a division of the Warner Bros. Home Entertainment Group, commands the largest distribution infrastructure in the global video marketplace. Warner Home Video's film library is the largest of any studio, offering top quality new and vintage titles from the repertoires of Warner Bros. Pictures, Turner Entertainment, Castle Rock Entertainment, HBO Video and New Line Home Entertainment.
About Warner Bros. Home Entertainment Group:
Warner Bros. Home Entertainment Group brings together Warner Bros. Entertainment's home video, digital distribution, interactive entertainment/videogames, direct-to-DVD production, technical operations and anti-piracy businesses in order to maximize current and next-generation distribution scenarios. WBHEG is responsible for the global distribution of content through DVD, electronic sell-through and VOD, and delivery of theatrical content to wireless and online channels, and is also a significant worldwide publisher for both internal and third party videogame titles.
About DC Entertainment:
DC Entertainment, home to such iconic DC Comics properties as Superman, Batman, Green Lantern, Wonder Woman, Flash, MAD Magazine, and Fables, is the creative division charged with strategically integrating across Warner Bros. and Time Warner. DC Entertainment works in concert with many key Warner Bros. divisions to unleash its superheroic characters across all media, including but not limited to film, television, consumer products, home entertainment, and interactive games. Publishing over 1,000 comic books, graphic novels and magazines each year, DC Comics is the largest English-language publisher of comics in the world.
GREEN LANTERN and all related characters and elements are trademarks of and © DC Comics.
About Warner Bros. Animation:
Warner Bros. Animation (WBA) is one of the leading producers of animation in the entertainment industry, with an innovative and talent-rich roster boasting some of the most accomplished writers, producers and artists working today. The studio is on the cutting edge of animation technology, and has both CG and traditionally animated projects in current production and development. In 2010, WBA unveiled three new CG cartoon shorts that feature iconic Looney Tunes characters Wile E. Coyote and Road Runner, rendered in stereoscopic 3D. The films have been released theatrically, attached to Warner Bros. Pictures releases. For television, WBA currently produces Batman: The Brave and the Bold, Scooby-Doo! Mystery Incorporated, MAD and Young Justice for Cartoon Network, and will soon launch The Looney Tunes Show, ThunderCats, Green Lantern: The Animated Series and more. WBA also creates the highly successful series of DC Universe Original Animated Movies for DVD. Producing for multiple platforms including TV, digital and home entertainment both domestically and internationally, WBA is highly respected for its creative and technical excellence, as well as for maintaining the Studio's rich cartoon heritage. It is also the home of the iconic animated characters from the DC Comics, Hanna-Barbera, MGM and Looney Tunes libraries. One of the most-honored animation studios in history, WBA has been honored with six Academy Awards®, 35 Emmy® Awards, the George Foster Peabody Award, an Environmental Media Award, a Parents' Choice Award, the HUMANITAS Prize, two Prism Awards and 20 Annie Awards (honoring excellence in animation).